When I first began writing Two Hearts Surrendered, I kind of wanted to kick myself for choosing a story so complicated and emotional. And would I be able to get this story finished in time? ? This LOVELY REVIEW makes it all worthwhile!!
Magical Weddings ~ New Release ~ 15 Enchanting Romances
Whether real or only in the hearts of the bride and groom, the magic of weddings is undeniable and irresistible! As these 15 enchanting happily-ever-afters by bestselling and award-winning authors prove.
From sweet to spicy, the romances bundled into this set cross time and unite hearts, cast spells of laughter, battle wedding jitters and fight back tears, while weaving love's hopeful magic throughout 1400 pages.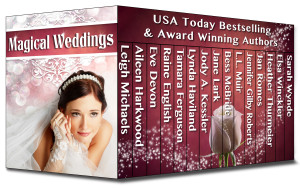 The box set is on sale for only .99 cents!
Amazon | Barnes & Noble | Kobo | Ibooks | Google Play
~~~MoreAbout the Books~~~
Her Wedding Wager by Leigh Michaels, National bestselling and Award-winning author of over 100 novels. Celia's doomed to an arranged marriage–unless she can win the most important bet of her life!
~~~
The Last Wedding at Drayhome (Breens Mist Witches) by Aileen Harkwood. Never underestimate the power of…
View original post 1,680 more words